Support Scouts BSA Troops 658 and 3752 COTS Walk!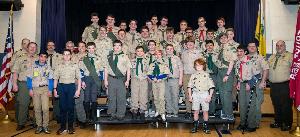 Dear Friends,

We have accepted the Challenge to raise funds for COTS (Committee on Temporary Shelter) as part of this year's Virtual COTS Walk. Our First Year team is a joint Scout team with Troops 658 and Troop 3752. Troop 3752 is the new girls troop. Both these Scout Troops are chartered by Saint Francis Xavier School in Winooski.
As some of you know, I recently accepted a temporary position with the Burlington Housing Authority, helping them get through this COVID-19 Crisis. BHA is one of the many housing related organizations working on behalf of our neighbors in Northwestern Vermont. I am happy to fundraise with a partner organization and I hope you will support the community in helping to prevent future homelessness.
COTS is Vermont's largest provider of services for Vermonters who are homeless, at risk of becoming homeless, or marginally housed. The focus at COTS is on finding solutions to END homelessness — not simply creating shelters for people who are experiencing homelessness.

This year, due to the COVID-19 crisis your support is more critical than ever. Our homeless neighbors are especially vulnerable — many of our guests in shelter are elderly or have compromised immune systems. You cannot shelter at home when you are homeless. Even if you can self-quarantine in a shelter, you are still in very close proximity to other shelter guests, often several to a room in bunk beds.

We are proud to help and "walk" for COTS this year — as they work to provide shelter, services, and support to our most vulnerable families and individuals during this difficult crisis.
More information about COTS and the Virtual COTS Walk is available at www.cotsonline.org.

Please support us in raising money for this organization! You can write a check, give cash, or donate on line using this link http://give.cotsonline.org/goto/AlBellucheScouts
Donating through this site is simple, fast, and totally secure.
Many thanks for your support — and please forward this to others who might want to donate, too!

Sincerely,
Al Belluche
Troop 658 and Troop 3752 Community Outreach Committee Member
View More
Achievements

COTS Walk T-shirt
I earned a COTS Walk T-shirt

Self-Donate Badge
I supported this event with a personal donation.
Fundraising Honor Roll
Ms. Kimberly 'Kim' Ann Hunt
$30